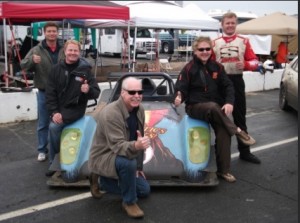 Team Radical Ventures 2010 25 Hours of Thunderhill By: Jeff Shafer
On October 17th 2010 we held a Radical Challenge event at Laguna Seca with the San Francisco region SCCA which included a 4 hour enduro. I was invited to co-drive with my good friend Lee Alexander. We qualified on pole and led the race for over an hour until it started raining. We opted to pull out of the event due to poor track and weather conditions. I bring this up because to this point I had no intention to attempt the 25 hour race again since our last attempt 2 years ago ended with a demolished Radical SR3. The Laguna event really sparked the ambition to put a team together for the 25. When I approached all my customers I found interest in the event but no one was willing to risk their Radical knowing the outcome from the last attempt. Since starting Radical Ventures 5 years ago I had acquired enough parts to build my own SR3. With ambition on my side I set the goal of building the car and putting a team together in 43 days. (Crazy Huh?)
After a few drivers cancelled I did get the commitments I needed from 4 customers to concrete the deal. Suddenly I realized (and kind of nervous) that the car has to be done. Every hour awake was spent building the car and organizing the support equipment and team, most of the time until 1 or 2 a.m. My wife Jolene is probably one of the most tolerant women I know when it comes to racing, but even she was at her wit's end with me as the event approached.
Everything came together at the last moment. The engine was installed and on the dyno the day we left for the track. It was off the dyno and straight into the trailer to head out. The car turned a wheel for the first time in the Thursday test. Just a few tweaks and it all seemed to work. The first setback came in the Friday test when an off track excursion caused damage to the front and rear diffusers. In no time at all, our crew chief James Barwell, and Brian (my bro) Shafer had us up and running again.
It was time to qualify (which the team elected me to do!?!?) The format is interesting as the session starts with practice at dusk and (at some point just rolls into qualifying in the dark.) I did a few warm up laps and pitted to wait for the qualifying to start. In the end we waited too long to go and a bad crash shortened the session, so……we never turned a lap and had to start last. Unfortunately, in this event last was around 80th! We were disappointed but knew that in a 25 hour race (besides bragging rights, I was certain pole was achievable) this would have absolutely no affect on the outcome.
Race time, and what do I say. We are the fastest car and just need to pace ourselves, not get in trouble, and bring the car home in one piece. We got to the lead within the 2 hour mark and held it for 4 more. Then trouble…… lots of it, and it all came in the rain, dark, cold and exhausting time during the evening and night hours. Here's a quick recap.
A broken rod end damaged the whole left rear corner of the car, towed in and fixed, then a run in with a Miata caused damage to both right side corners needing uprights and wheels (came in on the hook), a punctured radiator had to be changed, broken shift linkage, couple of penalties for spilling fuel and one for passing under yellow were all putting us further behind. It seems this race wouldn't be right without rain, and it did for around 3/4 of the time. Our own headlights blinded us in the rain and mist. All the drivers did an incredible job just to keep it on the track and off the other cars in the night time conditions.
At about 3 am I think our whole team was wondering "WHAT THE HELL ARE WE DOING!!!" We didn't give up and realized the other cars in our class were having just as many problems or worse. By the time the morning sun came up we were leading our class and never had another problem to the checkered at noon. It was such a relief to cross the finish line and suddenly we all realized what an accomplishment it is just to finish, and a bonus to win our class and set the fastest lap of the race.
There are so many people I would like to thank. First off NASA did an incredible job running the event and I only see this growing and improving every year.
Our driving team, Tim Day, Ethan Stone, Dyno Don, Steve Nicklin and myself not only brought it home but contributed to all aspects of the effort. Thank you guys.
Many of our crew were Shafer family volunteers, my mom and dad, brother in law, his friend Jason had never worked on a Radical before, but they all stepped up to help and we could not have done it without them.
Finally the 2 unsung heroes on our team. The engine builder / crew chief / baby sitter James Barwell played a huge role and his (and my) right hand man Brian Shafer, whom I cannot thank enough. They both worked tirelessly before, during and after the event to make this happen. Thank you guys.
Last but certainly not least are all the people that provided the pieces to make this happen. The biggest support came from Lee Alexander of Factory48 Motorsports who provided the engine. He wasn't part of the team (this year) but we could not have run the event without his contribution. Simon at Radical West provided untold parts and support, several customers including Joe Schifini, Gary Hardesty and Ken Davis all contributed parts, pieces and equipment to make this happen. Thank you so much. Tim at Hoosier built and provided slicks just for our car that worked awesome. I must also plug Dunlop for such an incredible rain tire, we ran about 10 hours on 1 set!!!!
In closing, I have made my list and checked it twice….. for next year we will be better prepared to try again, and this time for the overall win.
Happy Holidays and thanks for reading,
Jeff Shafer